Last week on our Instagram we posted a photo of one of Willi's longtime supporters holding a stack of small cereal bowls (click to see the pic – @willimichalski – if your not already following us, you should be!) and the internet went wild! Nesting bowls, it would appear, are the next big thing!
So, because we like to give the people what they want, here is another gorgeous pair of bowls, nesting happily.
The bowls were wheel thrown by Willi Michalski, a master ceramicist with over 30 years experience turning out stunning and unique pieces such as these.
Both bowls bear the maker's mark and the exterior is slightly roughly textured, as well as featuring a captivating matte black glaze.
Shipping: Pick up is from Sydney's Northern Beaches or shipping via Australia Post at additional cost.
If you are not local to Sydney, please contact us for a shipping estimate. We ship worldwide.
Willi Michalski – Studio Potter
93 McCarrs Creek Road
Church Point NSW 2105
02 9997 1933
Join us on social media and stay up to date with firings, sales and studio shows
facebook: wmceramics
instagram: willimichalski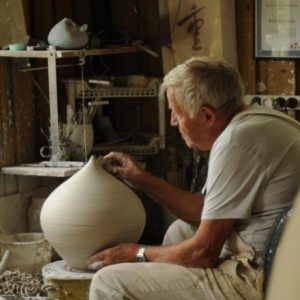 Willi Michalski Ceramics are individually hand-made by the artist in his Sydney studio.
To commission a unique Willi Michalski Studio piece please CONTACT US.